Holidaze: term that defines the feelings of confusion and excitement people have between Thanksgiving and Christmas; the blur one feels after/during shopping for gifts in crowded retail stores with heavy holiday traffic
- Urban Dictionary
Friends, this is the time of year when it's socially acceptable to listen to holiday music (I like it year-round but SOMEONE in my household makes me wait until after Thanksgiving). It's also the time when you might be looking for a little escape from the family - especially during this post-election insanity! I won't lie; I like a good, sappy Christmas movie as much as the next person. But what I
love
is a little bit of bite to my holiday watching. So, while you enjoy your leftovers, sneak away from the in-laws and try three of my favorite holiday-themed television episodes.
"A Very Supernatural Christmas"
Supernatural Season 3, ep 8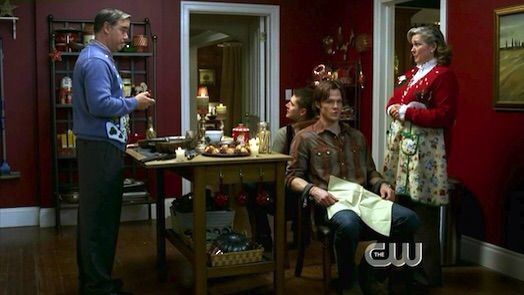 This Christmas treat is
Supernatural
at its monster-of-the-week best. Brothers Sam and Dean Winchester hunt the things that go "bump" in the night and protect the world from supernatural threats large and small (all while eating tons of pie and being exceedingly handsome). In this episode they are after a creature that appears to be devouring people who are decorating their homes with yuletide cheer. The brothers investigate undercover (per usual: as FBI agents with
rock aliases
) and they discover a truly depressing bad Santa, the legend of Krampus, and pagan threats much older than the first Noel. This episode is creepy, funny, and full of references to ancient pagan lore and its current Christianized forms. And, for
Supernatural
superfans, this show also includes some poignant flashbacks wherein we see what it was like for two motherless boys to be raised as hunters.
Community Season 3, ep 10
For those of you who are not
Community
watchers, this is a weird, inventive show. It's also very snarky and "Regional Holiday Music," is a tour-de-force in holiday cynicism. The study group of lovable losers
(
Alison Brie
,
Donald Glover
,
Joel McHale
,
Gillian Jacobs
,
Danny Pudi
,
Yvette Nicole Brown
, &
Chevy Chase
)
at Greendale Community College is thinking about their Christmas plans when they are interrupted by Mr. Rad (played in over-the-top glory by SNL's Taran Killam), the Greendale glee club instructor who is recruiting students to participate in his annual Christmas pageant. The study group rejects him initially, but through a series of holiday-themed songs that target each member in nefarious ways, the group is lured into holiday joy. Chevy Chase's character Pierce cannot resist "
Baby Boomer Santa
," who seems to know just what to say to scratch his narcissistic, consumer-oriented, generational itch ("Pierce! They're just trying to pander to your demographic's well-documented historical vanity. Resist!"). Alison Brie's Annie tempts Joel McHale's Jeff with "
Teach Me How to Understand Christmas
." Annie's song begins as a send-up to "Santa Baby" and quickly devolves into gibberish ("Boopy Doopy Doo Boop Sex!!!"); it's one of the canniest deconstructions of sexy-baby-voice femininity you'll see. Add to that a nod to Jehovah's Witnesses who struggle through the holidays and a Fundie's discomfort with anything other than wishing someone a Happy Jesus' B-day, and you have a holiday treat!
"How the Ghosts Stole Christmas"
The X-Files, Season 6, ep 6
The slow burn chemistry that
X-Files
fans adore between the true believer Fox Mulder and skeptic Dana Scully is on display in this classic episode. It's Christmas Eve and FBI agent Mulder inadvertently drags his partner Scully to a haunted house in Maryland. Supposedly two lovers participated in a suicide pact there in 1917 and have been haunting the premises ever since. Trapped in a nightmarish bleak house, the two encounter some pretty scary early twentieth-century ghosts as well as a few phantasms haunting their working relationship. And, they do it with plenty of holiday cheer. No show blends humor and horror quite like
The X-Files
- especially the early episodes like this one.
P. S. If you find yourself
still
stressed after these eps, I recommend the Target parking lot. That's where I'll be.